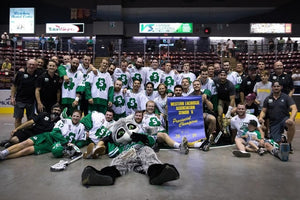 WLA Finals Was Great Lacrosse, But Rules Need Consistency and Enforcing
[Photo: Victoria Shamrocks Social Media]
Since Stephen Stamp is giving tight coverage of the Eastern playoffs, I made a point to catch all of the WLA finals to report my findings from out West as the Mann Cup approaches.
The momentum the Victoria Shamrocks were able to build in each and every outing of their best-of-seven WLA finals with Maple Ridge enabled them to hang on for three overtime victories to clinch the series in a surprising 5 games. Victoria out lasted Maple Ridge for a tight 7-6 0T victory at home in Game 1, which became a theme throughout the series. 
I was able to attend most of the games live and watch the others online and this is an WLA final had good intensity and even better story-lines.
A day before the series, started I predicted Maple Ridge in 5 games as I just didn't see a way for Victoria to stop the Burrards's NLL all-star offence. 
Another factor was the depth Maple Ridge had accumulated with deadline deals on offense and in goal to combat injury if it occurred. Victoria countered with a young offense that was considerably unproven in the championship rounds at the Senior "A" level.
I would have to given an defensive edge to Victoria with its all-world defenders in Graham Hossack and Steve Priolo. With these two leading the charge against Dickson, McIntosh and company, I felt Victoria could hope to stifle the defending WLA champs for a few contests. 
A funny thing happened on the way to the start of the WLA season this year. Nanaimo cast off homegrown stud goalie Pete Dubenski in favour of Charles Claxton of Victoria and Mike DeGirolamo of Calgary. The Shamrocks gave up a fourth-round pick for Peter and within a week, settled on having Hagedorn and Dubenski as their 1-2 punch. At the time, the exchange may have seemed minimal to some. This trade was the spark that started the fire that resulted in Victoria hosting this year's Mann Cup.
Playoff MVP Dubenski lacks NLL experience but he had played in a few Minto Cups and last year's Senior "B" Presidents Cup. It took a few weeks for Pete to get comfortable after donning the green and white but when he did the wins started to come. Dubenski led Victoria's late season surge and registered only one loss in the postseason. 
Of course, the Shamrocks have created an energetic mix in 2019 with their eastern imports and first-year players making the most of their opportunity out west.Time and time again in this series we were seeing plays out of the Rock's young players like Mac Mitchell, Lars Sundown or Marshall King in clutch moments. This allowed the Shamrocks to push the limits of the mighty Burrards. Ultimately Maple Ridge just didn't get enough of the same style of production out of its top players.
The Burrards did get great miles out of sniper Dane Dobbie but the supporting cast of Curtis Dickson, Wes Berg and Ben McIntosh fell short of what was required to make the ultimate difference. 
McIntosh had a spectacular six-goal contribution in Game 2 but only dressed for two games in the series. McIntosh's other performance was a miserable stat line of one goal on 14 shots in the pivotal Game 3 in Victoria. Dickson scored at a goal-a-game pace for five goals in five games. The real problem was that Dickson took 47 shots to create those goals, adding up to a frustrating series for Superman. Other Maple Ridge offensive players had the occasional good showing but not regular enough to add up to more clutch goals when needed.
Frank Scigliano, the WLA keeper of the year, ended with 1 win and 3 losses through 4 games and gave way to backup Christian Del Bianco for the 5th and final match.
The Burrads were unable to overtake the Shamrocks in overtime on three separate occasions. This signified how tight the series was played. I credit the Shamrocks with matching and raising the intensity level on the star studded Burrards.
Of course this is Canadian Lacrosse and this series is not out of reach of criticism.
The refereeing was horribly inconsistent and managed through a different set of rules than suggested in the CLA handbook. Games played in this series didn't resemble anything I watched in the regular season.
Moving picks were a mystery for fans of both teams and off-ball hacking and whacking was ongoing. A slash of Victoria's top producer Jesse King's thumb ended King's season late in Game 4. Just before the miracle goal from center by Tyler Pace was whistled to start, the Burrards' Patrick O'Meara chopped an unsuspecting King in the hand.
The result is Victoria will miss its top producer for the Mann Cup because too much leeway was given on the rules of physical play. The WLA must do a better job of protecting its participants. As it is, the league will suffer its own consequences by not having King and the Shamrocks representing the West as well as should be expected. Both eastern representative are deep and talented while the Shamrocks will be seriously shorthanded without the services of King.
The goalie equipment escapade was another black eye for the league in Game 5.
The NLL supplies goalie equipment yearly and most CLA Sr.A goalies wear their winter issue with pride during the summer. Apparently, the Category Three tags are not sewn onto NLL issued equipment but are mandated for CLA play.
The WLA and CLA did away with calipers for measuring oversized gear awhile back, instead opting for the Category Three tags and trusting that the goalies won't alter their gear. What a lark!
In other words, they trust the tag but don't hold up any measurement standard on the equipment. Just another CLA mandated rule created for minor lacrosse and age related problems that slipped into general coverage including the Sr "A" rank. This was done to save the equipment check calls that were sneaking into playoff games across Canada at all ages a few years back. 
Ironically, the 2019 NLL issue chest and arm is one inch narrower in the arms than any previous models so in fact Dubenski's illegal gear is smaller than the old measurement allowance to create the Cat 3 tags.
The Victoria goaltender lacked the Cat 3 tag on either his shin pads or chest padding. Any store bought tagged gear would in fact be bigger. The Victoria goalie and WLA playoff MVP was unable to finish his body of work while being deemed a cheater for not having a 2-inch piece of cloth sewn on his gear. Maple Ridge's desperation and the CLA's wonky interpretation of what matters tested the rule book that obviously wasn't thought out enough before arriving at this rule. 
Possibly, the Shamrocks should know better but this is a slippery slope that shows that the WLA and MSL should operate at a higher level than amateur lacrosse. Both these teams were heavily invested and if this ended up being the focal point of this final it would make the sport look bush league.
If Paul Dalmonte wants to make his mark during his term as Commissioner of the WLA then he should clean up off-ball slashing once and for all. Clarifying moving picks will enable his referees more context to promote skill in August instead of the yearly roller ball we are accustomed to. Throw in goalie gear shenanigans for added confusion for fans of our sport. They really deserve better, especially if we want them to keep coming back. 
With all that said the series was highly entertaining. Victoria's resilience and ability to take over games at the most important moments repeatedly swung momentum in its favour through grit and determination. The Shamrocks rose above all obstacles. Like it or not that is what summer playoff lacrosse is made of.
---
59 comments