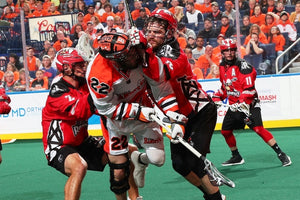 When It Comes to Finalists, Calgary and Buffalo Are Evenly Matched
[
Photo: Bill Wippert] There wasn't much real estate during Game 1 of the NLL finals, which is pretty much what was expected given the way Calgary and Buffalo match up. 
The regular season was kind to Buffalo's Bandits as they cruised along in high gear from beginning to end.
The Bandits have sandwiched two trips to the championship around a couple of seasons were they didn't even qualify for the playoffs. Credit has to go to the front office that drafted wisely and went with a young group for the last three years to build what we have in front of us today. Very few players remain from the 2016 Bandits squad that dropped the championship game in Saskatchewan. The jerseys have been orange and black for ages but there is a lot of youth underneath. 
Calgary has taken a similar, youthful path through the draft and trades but haven't been in the championship since 2014. The Roughnecks made some smart trades, picking up some journeymen players just like the Bandits, and these role players accent the high draft picks that populate their lineup in 2019.
One player missing from this year's championship is Calgary forward Wes Berg, who opted to sit out the season in a contract dispute. There is no doubt Berg could be a bullish force against the Bandits defense if he were involved in the series, but the Roughnecks are here without him. 
The similarities in both organizations are eerie in the sense that they have moved in the same directions at almost the same period of time. Let's review each team's makeup.
In goal is one area that these teams differ. Buffalo possesses the most decorated goalie playing in the NLL with three-time champion Matt Vinc. Vinc is simply money when it comes to the postseason and the Bandits knew exactly what they were getting when they signed him out of free agency this past fall. With a strong draft for the second year in a row and the signing of Vinc, I personally picked Buffalo to win its division. If you're a Buffalo fan, you have to feel good about your chances based on the experienced Vinc. 
At the other end lies the heir apparent to Vinc in Christian Del Bianco. CDB is poised to have a 20-year-career if you look at the length of time other goalies have played, into their late 30s. Christian has been in the league since he was 18 and is in his 4th season. Never in pro lacrosse has a young goalie been as dominant as Del Bianco has been in the last two seasons. Most impressive about this fresh personality is his poise under pressure. A new challenge is here and Del Bianco's mettle will be tested.
In Buffalo's defense, we see that this is where the Bandits remain close to their historical ways. Playing in Buffalo is intimidating for a few reasons but mainly because of the size and demeanor of the Bandits' back end. Keeping in stride with past Buffalo teams that raised banners, this year's group includes rather large and nasty defenders. Guys like Priolo, de Snoo, Sweeting and Weiss aren't too bad getting up the floor or punching their opponents in the jaw. Adding rookies Ian MacKay and Matt Gilray to an already mobile group gives this core the ability to hurt in multiple ways. 
Calgary is a little bit less of a threat to run the floor, but I sense that's more from a game planning than a personnel perspective.
The Roughnecks boast three of the top transition defenders in the league in Zach Currier Tyson Bell and Mitch Wilde. The youth movement in Calgary this year came in the form of defensemen with the addition of Eli Salama, Reece Callies and Shane Simpson. All three have been major contributors over the course of the 2019 season. Calgary also has the size and speed setup, which promises this evenly matched playoff could explode into a track meet at any given moment. 
Both teams run disciplined man-down units that also have the ability to turn the tables from the defensive end, utilizing that same size and speed.
Calgary may have a leg up in the faceoff circle with Tyler Burton doing the honors full time. Fraser, Weiss and MacKay will look to wear Burton down while keeping the Bandits side fresh.
On the "O" the Bandits have one player remaining from their past championship performance: Dhane Smith. Smith is relatively young but Buffalo has incorporated a whole new offense into his game over the last two seasons. 
Judging by the all-out success of the Bandits, I don't think Smith minds too much. In fact, when it comes time to vote for hardware, it's tough to pick anybody on Buffalo's offense because so many have contributed to their success. The additions of Corey Small and Chris Cloutier at the beginning of the season finished off the reconstruction of the offense that includes superstar Shawn Evans and 2018 first-round picks Josh Byrne and Chase Fraser. Also of note are two players picked up in trade from Vancouver in 2018 - Thomas Hoggarth and extra greasy corner guy Jordan Durston. Both forwards have played integral parts in the Buffalo attack scheme.
Calgary has a couple of playoff-tested veterans themselves in Dane Dobbie and Curtis Dickson. These veterans keep producing with Dobbie having the best points season of his lengthy and decorated career. Both players have deft scoring touch and the creativity to use others. 
Rhys Duch arrived in preseason and immediately fit into a groove in Calgary's offense. Dutch also has some championship experience that will be drawn upon in the coming weeks. Some misfortune came Calgary's way in preseason when newly acquired Jesse King re-injured a troubled knee and missed three months of the season. King returned against his old team, the high flying Georgia Swarm, and contributed in a victory that changed the fortunes of Calgary's season. King adds more size to Calgary's meaty left side with Riley Loewen and Dan Taylor and that should help if the series goes the distance.
There is incredible balance between both teams in their makeup and the way they play the game. As we saw in the regular season contest going down to the wire, we are in for a balanced final. While Buffalo is the more consistent of the two clubs, Calgary has played its best lacrosse in April and May building for this opportunity.
What more can be said? The similarities in goaltending, defensive size and structure and offensive firepower are undeniable. And even though Calgary took a 1-0 series lead with Saturday's victory, it was by no means an easy win. Every goal, every shot and every bit of space was earned. Given the way these sides match up, we should have expected nothing less. It should be more of the same as we get ready for Saturday's Game 2 in Calgary.
---