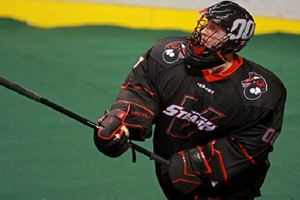 When it Comes to Concussions, Everyone has a Roll
This past weekend I caught a commercial for a new Christmas holiday movie Concussion. The whole world is being made aware of the issues with head injuries from sports to re-evaluate their own risk.
The impending storm the NHL is facing looks grim. Without question, it will land it right where the NFL is, in the midst of a major lawsuit. The NLL need not worry about this right now. I do suspect in a few years there will be ex-players recounting their time in lacrosse while dealing with some symptoms of post traumatic head injury. It's inevitable. 
All of sport has seen advancements across the board in conditioning, equipment and facilities since the black and white era of the 50s. Through the ages, including the 90s, poor protective head gear was an area not advancing at the speed of the games.
A massive ignorance to head injuries and concussions was growing in physical sports. Awareness to brain trauma started to take shape in the 2000s era and head gear for all sports started to come under scrutiny. Improvements were made and rules were amended to start the movement toward safer environments in our beloved North American sports of hockey and football.
The NHL and its Director of Hockey Operations, Colin Campbell, are now under fire for ignoring some of the finer details during that decade of the 2000s while harbouring the motto of "The show must go on."
In defense of the NHL and Campbell, the information was fresh and the NFL hadn't been run up the flagpole at that point in time. No NHL players had died or committed suicide from conditions occurring from their undiagnosed CTE (Chronic Traumatic Endephalopathy). There was no possible way of knowing what lay ahead for the NHL with Derek Boogaard, Rick Rypien or Wade Belak. It's the way of the world for past generations to question new ways of doing things and thought toward change. That seemed to be the NHL's downfall. The amount of hesitation that was based in greed has yet to be determined.
The NLL has dreamed of being NHL "like" in its quest for advancement on the North American sports stage. The WLA and Major Series are also worthy of mention as the upper echelons of indoor lacrosse and what our children may aspire to. I guess the question is how safe is indoor lacrosse? We do have some history of concussion in lacrosse including a very enlightening passage by Brodie Merrill about his condition a few years back.
Lacrosse hasn't got the speed of skating in hockey so reaction time is delayed more than our National winter sport. With the puck on the ice, most of hockey is played looking down and with less awareness to your surroundings. Lacrosse is played mostly with your head up and the ball operating at head height or higher creating better views of possible contact.
The tackling of football while leading with your head exposes the head to direct blows several times a game for most players. The frequencies of occurrences in these sports are considerably more and compound at higher rates over time because of the mechanics of their games. That's a positive when parents consider lacrosse for their kids instead of more hazardous sports. The irony is that these same parents may have considered lacrosse too rough in the past.
In lacrosse we might get whiplash from cross checking and some head trauma from high sticking in the neck and head region. Without the ability to acquire the speed that skating provides impacts in lacrosse come at lower speeds.
The recent retirement of John Tavraes at the age of 47 would make him the poster boy for tolerating punishment in the sport of box lacrosse and not skipping a beat. Tavares had his bell rung a few times in his career and played some college football to boot. Tavares's exposure to being hit was vast but he seems no worse for the wear and tear. Others like Tracey Kelusky and Jay Jalbert have had documented issues with concussion. Like Merrill, these injuries came at lacrosse's highest levels.
In lacrosse most of harm's way comes in the form of goalies and fighters. You opt to play goal or fight and sooner or later you're going to wear a few. Future study of the long term effects a handful of the past's brawlers should be a consideration for lacrosse's higher ups.
We also have goalies wearing field helmets for box lacrosse and the track record of Tyler Richards and now Dillon Ward dealing with concussions may be a reason to outlaw the plastic headgear for goalies playing indoor lax.
I shudder at the thought of how many MMA fighters will be brain dead in future years. I would bet enough in the future to halt the sport from lasting unless Dana White has the best insurance plan in history. One day the lawsuit payout for MMA fighting will be grand.
What we have gained from other sports under the microscope is that lacrosse needs to be mindfully preventative of risk with our rules and equipment to the fullest degree. Bad publicity is something lacrosse doesn't need. The CLA needs to clean up some of the loose rules of summer ball in the adult age groups by making head penalties a seriously punishable offense because they have been playing with fire for decades.
The recent death of football broadcaster Frank Gifford and the donation of his brain to science revealed he had CTE for years from playing professional football. Gifford's ailments went undiagnosed but in 1960 Gifford sustained such a bad concussion he missed the entire 1961 season in recovery. Today that would grounds for intense medical attention.
Lacrosse is a less-monitored sport than football or hockey, especially in Canada. Any sport can have peril and lacrosse is not exempt from head injuries and concussions. The time has come for everyone to take responsibility into their own hands and make sure they are 100% before they consider playing sport after a concussion or any of the symptoms of head injury.
The mounting information is too remarkable to ignore. 
---