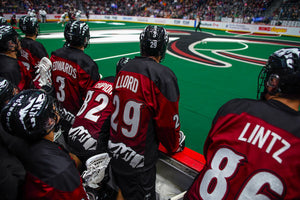 What Week 15 Meant As We Hit the Stretch Run of the NLL Season
[
Photo: Colorado Mammoth] The Colorado Mammoth liked what they saw on the floor as they swept Vancouver in Week 15.  
Week 15 of the National Lacrosse League schedule provided some insight into what the first round of the playoffs will look like barring any miracles. Philadelphia, Rochester and Vancouver look destined for spots on the sideline. 
The Georgia Swarm started the weekend out by throttling the Toronto Rock in a game that was never close. The Swarm had dominant performances from goaltender Mike Poulin, Shane Jackson, Lyle Thompson, every member of the defence. Randy Staats posted a 10-point night. 
Toronto is missing their top lefty Adam Jones but top clubs need to find a way to rise above injuries and other setbacks. What was most impressive about Georgia's effort was that they shut down Tom Schreiber and Rob Hellyer so TO's offence could never get on track. 
This was the type of game I've been expecting from Georgia for quite some time. The Swarm size and speed is evident and now their confidence is riding high. As a guy who watches goalies, I'm seeing Mike Poulin in his prime having easily the best season of his career with this being his best game. 
The weekend was chock full of meaningful matches, including the defending champion Saskatchewan Rush visiting California to play the expansion San Diego Seals. 
Like Toronto, Saskatchewan was trying to rise above the loss of an important player, in the Rush's case goaltender Evan Kirk, in their attempt to take control of the division. In what evolved into a highly entertaining game, both teams came in about equal on almost every stat. This was reflected in the one-goal differential. I would expect a higher-scoring game to go in favour of Saskatchewan because their offence is undeniable. San Diego has settled into a solid team game and had a more balanced feel throughout the night. 
One player who hasn't been getting much ink in 2019 is San Diego's Casey Jackson. 
For the last four weekends I don't know if there is been a better player in the NLL. Casey is the perfect example of an offensive player who can get it done with or without the ball in his stick. Jackson has made the Seal's left side more than a one-man show. 
If you like numbers, Casey has the second-best shooting percentage among Seals forwards at .195, with 22 goals to his credit thus far. Jackson represents more than the Seals this year, he represents what opportunity can provide someone who has waited his time to get his chance while working on his game in the summer. 
As far as rivalries go, Philadelphia and New England share the unique position of new and old. For New England, any loss to Philadelphia has to hurt. The New England organization has been built over decades in Philadelphia before the move. The Wings represent the old moniker dressed up in an expansion franchise. 
I wouldn't say this game was a blowout but it doesn't really matter as New England had no answer for Philadelphia from start to finish. Once more, New England had to do without forward Callum Crawford while he served part of his suspenseful suspension. 
New England still got six goals from the right side sans Crawford. Unfortunately, the left side shot 2 for 31 which was the tale of the tape. I honestly didn't see this loss coming as New England has been extra impressive all year long. This New England group has more size than any team in the NLL. They will be a handful down the stretch if they can get back into their previous rhythm. 
Toronto's visit to Buffalo Saturday night looked like it might be unpleasant. The Rock defence and goaltending held up, giving them a chance to steal one on the road. 
A 4-0 first quarter got the Rock off to a wonderful start that gave way to a 32-minute scoring drought which sealed their fate. It wasn't Buffalo's best game of the season but good teams find a way to win and that's exactly what Buffalo did. 
The Bandits have depth beyond every squad in the league at this point. They have size and speed and experience every other organization must be envious of. In the past, I've seen hot teams peaking by midseason and then blowing games like this. The important thing is that Buffalo didn't. If I was going to Vegas, my money would be on the Orange and Black. 
Calgary rode into Rochester coming off their most disappointing loss of 2019. The Knighthawks could be nothing short of dangerous with a new unknown mix of players looking to make a point. To their credit, they held their own for 30 minutes of play. Coming out of the half, Rocho looked poised for an upset. 
Calgary took control in the third quarter and ground out a win with Curtis Dickson doing most of the damage. The Roughnecks can't be happy with their play of late and have work to do down the stretch to establish themselves as a contender for a deep playoff run. 
One team that will have something to say out West come May is the Colorado Mammoth. The Mammoth's playoff season started on Friday night in Vancouver where Colorado was looking to build off of a big home victory one week before. 
The Woollies ignited a three-game win streak by getting back to the basics on defence and doing what they do best, which is packing it in. This stifling defensive trend continued over a back to back weekend showdown with division rival Vancouver. 
Friday night in Vancouver provided some drama but when the dust settled the Mammoth had won three of four quarters and beat the Warriors in convincing fashion. Vancouver have been playing a solid brand of lacrosse of late and I felt going into the weekend they carried the momentum but I was wrong. After the two-game sweep it remains hard to understand how Vancouver would play this uninspired with their season on the line. 
Saturday night, Colorado started their backup goalie for the first time this season. Vancouver answered with a fresh Aaron Bold who is nothing close to a backup. Goalie Steve Fryer finished the night with a 92% save percentage as Colorado dismantled Vancouver's offence from start to finish. This game wasn't even close as Colorado led 10-3 at the half and won all four quarters of this blowout. 
Vancouver employs a very similar defence to Colorado's and it has benefited goalie Steve Penney's numbers like it did Tye Belanger's two seasons ago. In trying to come up with reasons why Vancouver was out distanced this past weekend, I might point to the amount of rookies Vancouver is dressing and their lack of NLL experience. 
Looking across to Colorado's bench, it revealed they too were dealing with some inexperience in their lineup at key positions. Credit has to go to Colorado for digging down and figuring out their strengths and playing to them in these important games. This weekend essentially eliminated Vancouver from the playoff race, setting Colorado up for a first round date. 
This past Week 15 western showdown signified one team finding themselves and their identity in do or die battles while the other is left dealing with question marks about their lineup for the future. 
---