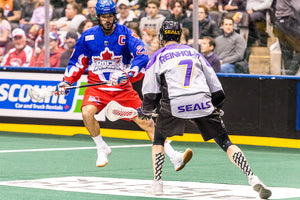 West Division Players Making Strides at Midseason
[
Photo: Ryan McCullough] Tor Reinholdt is one of the players in the West Division who has taken a big step forward at the midpoint of the NLL season. 
The halfway point of the National Lacrosse League season is in our grasp. In the first NLL expansion year since 2009 we have some surprises at mid-season. Through expansion we are getting a good look at some journeymen players taking on larger roles with their new teams. Read along as I break down the West teams and some of the fresh faces making names for themselves as rookies or in new jerseys in 2019. 
SAN DIEGO 
The expansion Seals took the West division by storm early but have levelled out to a .500 record. San Diego has opted to go with veteran players as opposed to running a lot of rookies and taking their lumps in season one. Could this be a Las Vegas Knights situation of the NLL? I don't like the Seal's chances of running the table as this team is still lacking some championship elements. Stud rookie Austin Staats makes this team go and he has become a target. Depending on veteran leadership and abilities is the Seals game plan.
Tor Reinholdt – Since being drafted in the first round in 2014 by the Roughnecks, Tor has been a depth player in the NLL. Reinholdt has played offense and defense and kept himself valuable by being versatile. In San Diego, he has settled into a defensive tranny role which suits him perfectly. More than any other new San Diego player I feel Reinholdt is pushing the envelope and making the best of his opportunity.
Quinn MacKay – MacKay has seen growth in 2019 through some playing time in back to back situations instead of being in and out of the lineup on a regular basis. The Seals will only improve by giving some of their youthful players this kind of opportunity and MacKay should thrive in this new environment. To date, Quinn's play has been noticeably sound.
Brandon Clelland - Clelland was a gift from up north at the roster cut off deadlines and has been a key addition to the Seals defense. What Brandon lacks in size he makes up for in effort and skills. Brandon has found himself playing key roles on the penalty kill, in transition and of course taking draws. I'm dumbfounded that Vancouver would give up on a player they developed for a couple of years. I'm sure Clelland has them in his rear-view mirror now. 
SASKATCHEWAN 
Not sure anyone would've penciled in the Rush as a .500 type team at the mid-season mark. I for one would not be pushing the panic button and I'm sure head coach Derek Keenan isn't. Getting the defense on the same page should be a cure for our defending champs. I always get the feeling Saskatchewan is just toying with other teams and that the offense can come to life at any moment. That hasn't been happening this year and the teams goals against average has soared. There is work to be done if the defending champs are going to be a true dynasty.
Jordi Jones-Smith – Talk about a guy who is an inspiration to take the long way to the NLL. Smith has never been on anyone's radar, yet here he is. Drafted late by New England in the 6th round of the 2015 draft, Jones-Smith had dome some time in Senior and the ALL winter ranks. In 2019, he has appeared in all eight Rush games. Jordie can only get better with time spent around the likes of Corbeil and Rubisch.
Adam Shute – Shute got his first start of the season and came up with a "W" in Vancouver on Saturday night. Adam came up with timely saves in a solid effort to backstop the win. Like a few other young goalies, Shute has paid his dues on practice squads over the past several seasons. While I don't expect him to displace veteran Evan Kirk, Adam has built his resume and has possibilities as a starter with expansion in the future.
Travis Cornwall – Travis is on his third tour of duty in the West Division after being a Roughneck first-rounder and then spending a couple of years in Vancouver. Cornwall is a fill in for his brother Jeff, who is taking the year off due to being on job probation for the fire department. I can see Travis having a breakout year in the Saskatchewan setting where he can go out and display his talents and not feel some of the pressures of the teams he's played for in the past. 
CALGARY
On paper at the start of the year, this Calgary team looked like it could challenge their prairie rivals in the West. It seems Calgary is a Jekyll and Hyde squad on any given night. Now that Wes Berg has decided to demand a trade and not return to Cowtown, it is severely handicapping Calgary's right side. While Dane Dobbie continues to look like he's 25 on the left side, Curtis Dickson is just starting to get comfortable after his own contract holdout. The Roughnecks have played well with holes in their lineup on any given night while testing three rookies on their defense. It remains to be seen if this group can elevate their play.
Eli Salama – Calgary is sporting a trio of young defenders who are quickly making a name for themselves with their physical and athletic play. Leading the pack is Eli Salama who has been nothing short of stellar in his rookie performance thus far. Eli excels in the shutdown defensive position but we're seeing him all over the floor as he explores his range of abilities. I would have him in my rookie of the year discussion.
Anthony Kalinich – Kalinich is another youthful prodigy already in his second NLL season at 20 years of age while needing to go back and finish off his junior career this summer. What more you should know Anthony is he is big and he is mean; think Andy Ogilvie. If the trajectory of these youthful defensemen in Calgary is consistent you may be looking at another Rush situation in the not too distant future.
Reece Callies – Callies is a massive 6 foot 8 defender who has played a bit of offense in his junior career. The skill set is high but the question mark was if the defensive skills were strong enough to play at the NLL level at this time. The answer is yes. Callies' upside is huge with physical abilities and size to match. 
VANCOUVER 
I would say the Vancouver Warriors season has been a mild success. There is lots of adversity facing down this unit but players have elevated their play to carry this team to respectability. A couple of OT wins early helped build some character. Vancouver is getting extra mileage out of captain Matt Beers and high profile forward Mitch Jones. An injury to either of these two players would expose depth weaknesses. The Warriors have excelled in transition.
Jordan McBride – McBride's assault on the NLL in 2019 has been nothing short of spectacular. This long-forgotten player got himself into shape and found the back of the net. It shouldn't be a surprise given his success at every level of lacrosse. McBride is making the most of his chance and it's a great feel-good story...almost as good as his shooting percentage.
Keegan Bal – Bal is in a similar space to McBride in that he's had some success at the NLL level but it never translated into a full-time gig. Unlike McBride, Bal is younger and not quite feeling as much of the push of father time. With a breakout 6-goal game and a consistent effort, Keegan is fitting nicely into the NLL.
Eric Penney - Penney has shown flashes of brilliance in the past but he is also been labelled inconsistent. Part of Penney's problem is that he was part of an underachieving team where he could never get comfortable with a reliable amount of defense in front him. Stepping out of the backup role, Eric has been sharp behind a solid Vancouver defensive set up. Vancouver will rely on him to climb the standings. 
COLORADO 
It seems the Colorado Mammoth can't catch a break. Last year they had massive injuries to deal with which also led to the retirement of Zach Greer. This season depth has been an issue while the team makes do with some free agents and swift draft finds in later rounds. The payout for Greer, Stephen Keogh and Jeremy Noble has stripped this club of its trading power. Work ethic has carried this team in the past and will need to continue to be their mantra while staying healthy.
Ryan Lee – When Keogh was traded from Colorado it signified a full changing of the guard. Keogh came to Colorado at a heavy price. Now that Lee is an everyday player, his confidence is showing in his off ball play and his creativity. No different than other players on this list, Lee is thriving in an environment where he can work on his game week to week.
Kyle Killen - Killen has quickly come on the scene as one of those later draft guys that explodes into a notable player. Not only is Killen scoring goals but he is doing it with gusto. If anyone ever thought that this late 2nd round draft pick didn't belong, Kyle has put that notion to bed. Kyle will be fun to watch the rest of 2019 as we see how far his confidence will take him.
John Lintz – Lintz has had an interesting ride as of late. John started the 2018 season as the defensive coach for the Vancouver Stealth and after a horrid start he became head coach Jamie Batley's fall guy. Fast-forward to 2019 and we find Lintz released from Vancouver's roster and signing in Colorado one day later. I have been a Lintz fan since his time as a practice roster player in Calgary where I thought he belonged in the lineup. John's summer play in Langley was exceptional. This is a great pickup for Colorado, bringing defensive size and skill.
---