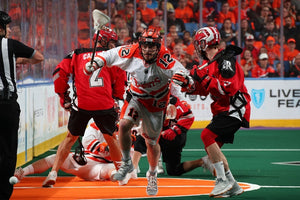 Shrewd Work in Front Offices Boost Buffalo and Calgary
[
Photo: Bill Wippert] Both Buffalo and Calgary have built strong rosters through trades and Mitch de Snoo (12) is one of a few examples of trades that have worked for Buffalo. 
There is no doubt that the two teams in this year's NLL final were constructed with thought and patience.
As a former general manager, I closely watch all teams and the patterns they seek to build out their on-floor product. Many teams are attracted to high stakes trades for expensive veteran players to deliver in the now. Other teams bide their time while developing draft picks and building from within.
In the past, countless NLL organizations have traded to be competitive currently and have burned through resources to do so. When those plans fall short the same teams rely on accumulating free agents to fill in the gaps. Yet other teams stockpile first-round picks because they were able to switch out players in waiting on the roster for future considerations. I think of Saskatchewan in this instance.
The truth is the teams that finish high in the standings on a yearly basis don't always get the best draft picks unless they are able to trade up to get them. The penalty for being competitive year after year is no stake in the top four or five draft picks. Those high picks usually translate into cornerstones for future results.
Both Calgary and Buffalo have been even keel in their design to erect their current makeup. Both have missed the playoffs recently but it was only temporary. It can even be argued that Buffalo is in the finals this year because of missing the playoffs the past two seasons. The Bandits accumulated high-end picks that have paid off quickly, particularly the last two drafts.
Let's visit some of the recent drafts of both teams to see what they were up to.
This past 2018 entry draft, the Bandits were able to grab Matt Gilray and Ian MacKay in high slots and then eventually traded for the No. 2 pick Chris Cloutier which corralled them three of the top four picks. Calgary had a couple of later first-round picks in defensive studs Eli Salama and Reece Callies, who have played veteran-like minutes throughout this past year. 
The jewel of the 2017 Draft was number one overall pick Josh Byrne of the Bandits. The windfall didn't end there as they selected Mr. OT Chase Fraser early in the seconds round. Defenceman Ethan Schott later was taken later that round and then dealt to San Diego as part of the deal landing physical back-ender Bryce Sweeting.
After missing the playoffs, the 2017 draft brought Calgary rewards. Tyler Pace and Zach Currier came from higher first-round positions and then the Riggers scooped up Ryan Martel late in the first round and Anthony Kalinich in the second.
Digging deeper into the 2016 draft illuminates Buffalo top pick Anthony Malcom, who has since been flipped in connection with receiving Jordan Durston. Likewise, Calgary selected Holden Cattoni in the first round. Cattoni was part of the exchange that landed Jesse King in a Roughnecks uniform.
The Bandits second rounder Justin Martin has been a constant in Buffalo's defensive end for two years straight.
One season prior, the 2015 draft brought Calgary goaltender Christian Del Bianco plus defenders Tyson Bell and Mitch de Snoo. De Snoo made it through training camp but was traded before the season started to Buffalo, where he found a home and has never looked back. The Bandits previous management was of the mindset to trade top picks for veteran players and the 2015 draft came and went without any high selections.
Buffalo has one free agent in their lineup, Matt Spanger, an up-and-coming defender with a flair for transition. Calgary, on the other hand, can thank the Vancouver organization for releasing Rhys Duch in preseason so he could step in to Calgary's voided right side. Duch joined ex-Vancouver teammates Tyler Richards and Tyler Burton. Calgary may not have enjoyed as many wins this year without this trio in its lineup. 
Indeed, Vancouver has played a part in the makeup of both teams. The free agents we just mentioned arrived from Vancouver to play in this 2019 final as Roughnecks. On the Buffalo side, there has been a history of trading between the two clubs that has brought Buffalo four men on their current roster.
As previously noted, Jordan Durston was involved in a trade prior to last season and Nick Weiss was involved in the same scenario a couple of seasons prior to that. This off-season, Corey Small became a Bandit in a trade that saw Mitch Jones shuffle out of Buffalo. Notable breakout player Thomas Hoggarth was swapped mid-season last year in a deal that saw Pat Saunders going the other way to Vancouver. 
Through trade, Calgary has acquired four of its foot soldiers while Buffalo has nine of its current 20-man roster arriving through trades.
Worth mentioning are the trades with each other. Buffalo didn't directly get Shawn Evans from Calgary but Evans was a Roughneck the last time Calgary challenged for the Cup. The Bandits did get Mitch de Snoo from Calgary and a year later, Calgary acquired Mitch Wilde from Buffalo for a couple of second rounders.
All in all, both teams have done well by each other and on their own accord, building through the draft or trade. Not only are both clubs highly competitive but there is a large tilt toward youth that should keep them in the playoff rounds for the foreseeable future.
---
6 comments