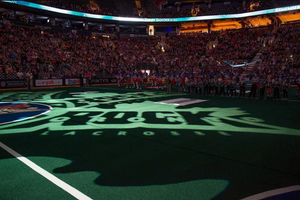 Recent Trades Reflect Disturbing Trend in NLL
The recent saga of Garrett Billings and the Toronto Rock was an eye opening gaze into the realities of what the NLL has become through evolution. 
Here we had a player with a demand to play for a certain amount of pay plus bonuses and a team not willing to give in to any of his demands for its own reasons. Until a late offer from the Knighthawks, no other National Lacrosse League team came forward to offer the restricted free agent a contract. To me this was an indication that other NLL GMs didn't want to rock the boat and start a turf war. It was a classic power struggle over who has the upper hand running the league. So who really is the heavyweight in the NLL, the players or the owners? 

The fewer teams the NLL has in it the more polar everyone's position in the league has become. The NLL is starting to resemble Major Series and WLA lacrosse, where we experience the haves and have nots. 
While it seems I'm pointing my finger at the owners for the problems of today, it's actually the players I take issue with. 
There have been times in the past that the players were able to dictate, maneuver and even go on strike to gain ground against the owners but today the PLPA is using different tactics to win a battle. 
Look no further than last year's trade deadline, when Brandon Miller refused to be traded anywhere but Toronto after holding out for almost an entire season. Philadelphia management had issues around a franchise tag on Miller that if exercised, could have kept him on ice indefinitely. With a season slipping away, the Wings succumbed to making a deal with Toronto when other teams would have paid more. Miller had navigated his way from hold out to Toronto and a job in his hometown. It would be hard to blame Brandon after he paid his dues for many years as a traveling weekend warrior. 
Fast forward to the summer and Toronto was able to lasso Jeff Gilbert and Brodie Merrill for an embarrassingly small exchange. Consider Merrill was traded for 3 first-round picks three years prior and Gilbert was a main piece in the Josh Sanderson trade back to the Rock before returning as an unrestricted free agent. 
Gilbert took a one-year deal at the start of the 2014 NLL season knowing at the end of the year he would be free to leave Minnesota to play closer to home. 
Merrill simply told Philadelphia he wouldn't come back under any circumstances and most likely dictated the team he would play for. Surely others would have been happy to pay more than the resource strapped Rock did for Brodie. 
We go one step further to a disgruntled Brock Sorenson, who also issued a Toronto-or-bust ultimatum. It is strongly rumoured that there was at least one offer better than Toronto's for Sorenson but at the end of the day he became just another part of the Rock windfall of late 2014. 
The issue at hand is everyone can't play for Toronto or even other horseshoe venues like Buffalo and Rochester. Vancouver makes the list out west as another team that assemble players from a vibrant backyard lacrosse market. The recent experiment of flying in Johnny Powless from the east is another indicator of players wanting to be home. I can't blame the players for wanting to play near home but it comes with a cost. 
The issue poses a handicap for the Colorados, New Englands and Minnesotas of the world with Edmonton and Calgary not far behind. These teams simply don't have the provincial backlog of players we see coming out of Ontario to complete most NLL rosters. 
With fewer NLL franchises, the league resembles a closed shop with a shortage of jobs. If you want to be the best you better employ a veteran lineup: keeping up with the Joneses, if you will. Through dispersals and roster size cut downs, most teams have solid experienced players in every position. Most come from southern Ontario. 
Without a true professional sports budget supporting each NLL city, the non-traditional markets are between the Rock and a hard place. 
My question is, where will this all go? 
The NLL has been under 10 teams since Boston suddenly ended its second round of pro box lacrosse in September of 2011. 
The Blazer demise opened some big name vets to the dispersal draft with Dawson, Cosmo, Rubisch and Sanderson all moving on to new locales and then some moving again after trades and holdouts. 
Cosmo (Buffalo) and eventually Dawson (Rochester) dug their heels in and got traded closer to home. Again, this reaffirms the NLL has been shuffling the deck for the last 4 years with players' demands getting met one way or another. This has strengthened specific teams, pushing the competitive balance of the league way off kilter. 
Minnesota has chosen a path to exist on a budget that won't allow for experienced players with high-end contracts. Like Colorado, the Swarm player expenses are high. Practices remain scarce when flying your team in from both east and west to a winter locale with volatile weather. 
Colorado spends top dollars to employ talent but otherwise deals with many of the issues facing Minnesota. 
Calgary and Edmonton are in a better spot because they have direct flights from Toronto and Vancouver to get players in to practice, which makes life a little sweeter. 
Then we have New England. 
It is a tough call as to where this team can best organize its comings and goings with at least 35% American players filling the roster. Practice location presents a challenge but overcoming the past mismanagement of personnel may have the Black Wolves behind the 8 ball for years. 
New England, formerly Philadelphia, traded Geoff Snider for Ryan Boyle and spent wildly over a half decade, dropping 8 first round picks to score Max Siebald, Brodie Merrill (3), Kevin Ross, Evan Kirk (2) and in part Paul Rabil. Only Kirk remains on the roster while Ross was released and little more than a first round pick was received back for Jordan Hall, who was basically rented for a year. 
Wings ownership has shifted 3 times in this previous timeframe, crippling the organization on and off the floor. They have been snubbed by Brodie Merrill, Dan Dawson plus Paul Rabil and other Team America members in recent times, revealing that everything behind the scenes is not running smoothly. 
We are grasping that certain NLL squads are not destination teams in the minds of polished NLL stars who want weekday practices that they can drive to or at least a straight flight with no connections. 
Again I cite if a team like Philly/NE can compete with veteran players turning their nose up at the thought of playing for the team. Their demise isn't as simple as a mismanagement issue; it is more an emerging league issue. Players did force their way out of Philadelphia with ultimatums that led to unbalanced trades and now the trend is evolving league wide. 
The big picture is we all want professional lacrosse. It bothers me that the competitive balance of the NLL today isn't what it should be. 
---