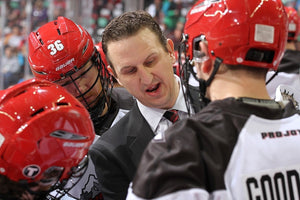 NLL Team Systems are in Place for a Reason
The National Lacrosse League playoffs have provided enough head scratching in one weekend to fill a whole playoff schedule. The only possible mysteries left to solve are if Rochester can win a game in Toronto or if the East will be able to stand down the West in a final game that will include one of two West teams with a dynamic defense. So how did we get here? Why are Philadelphia, Colorado and especially the heavily favored Roughnecks of Calgary looking on from the sidelines? Buy In. The teams play systems. Systems require that jobs be done to a specification. If the specifications aren't met, things can go off the map. Furthermore, when things go off the map, do you stick to the "system" to get you back on track or do you abort and go into improvise mode? 
Friday night I watched the Wings in Rochester. I looked to see if the Wings would try to settle in to a pick-and-roll game since they seem to want to play half-court lacrosse and not get into a transition match lately. I was looking for their "system." A solid first quarter revealed some patient offense but as the game wore on their patience wore out. 
Rochester's forwards did a great job of playing 30-second offense and putting pressure on Philly's defense and built a strong lead from the start of the second quarter until the Wings made their crazy run late in the game to make it look close. The Knighthawks looked better prepared for the job in front of them. 
The TSN game from Toronto revealed much of the same. 
With Toronto being stagnated by Anthony Cosmo and the best defense the Bandits have played all year, the Rock found themselves deep in the 2nd quarter with a 6-2 deficit. When they worked themselves into a good shot they met up with Cosmo or a rash of goal posts. Did they get off plan? No. They kept their offense working long 30-second clocks knowing that a breakdown had to occur soon, and with it a chance to turn momentum. 
What Buffalo did to counter hurt its chances to move on in the first round. The Bandits got away from what they do to be successful. They stopped moving the ball. At one point I counted 3 or 4 offensive shifts where the left side, or John Tavares in particular, never saw the ball. Tracey Kelusky may have had a season high total for shots in this game. I can guarantee that wasn''t in the plan. John Tavares is the most creative player to ever play the game. The most poised player under pressure in NLL history. Tavares is the 8th highest scorer in the NLL in 2012. Why isn't the ball in his stick?! 
I did not see the Minnesota at Colorado game. This stage was set two weeks ago and involved some key stories. Injuries, players moving between the teams in the off-season and arguably the NLL's two most improved teams in the league facing off in a do or die. The stats tell one big tale. Minnesota was able to transition for 4 goals in this game on a Colorado offense that took 30 shots on goal between two players. Did the Swarm game-plan for this? Or did Colorado go off the grid? We'll never know but the fact that Gavin Prout took three shots and Sean Pollock took four shots speaks loudly for one argument or the other. Minnesota continues to win with its attack-at-all-times philosophy. 
In our biggest upset we look at Calgary losing at home to their provincial rivals from Edmonton. The Rush benched power forward Scott Evans yet again, a whole story in itself about system and team. Back to the Roughnecks, they didn''t just lose, they got pounded and never had an answer for the Rush offense or defense.
Much like Philadelphia and Buffalo, around the middle of the second quarter when faced with some adversity, the Roughnecks seemed to stray from their normal game plan more and push the panic button.
The inside presence of Curtis Dickson was sorely missing. Calgary seemed happy to bomb away from outside and not work for quality shots. In transition the smart plays were few and far between. Instead, when Calgary pushed the pace, it took poor-percentage shots and turned the ball over early and often, letting Edmonton keep its defense fresh and confident all night long.
I credit the Rock for facing their adversity and sticking to what works for them to get them through. It hasn't worked for Toronto every game this year but it has got them this far and they have built their success on that platform. After all, it comes down to the laws you create and define as a team. 
You "buy in" and count on your own system, your own discipline for 16 games. Playoffs are no time to stray. 
---