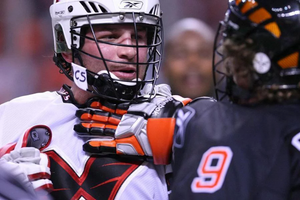 Missing the Bad Blood of the Old Days? You're Not Alone
In box or indoor lacrosse, multiple battles are fought just like in all contact sports. There are rivalries that run deep like a Bandits vs. Rock showdown and there are the wars waged inside the conflicts that take place with players standing up for the team flag or themselves. 
Bad blood sells tickets, creates those rivalries and is good for the cause. I know it's a slippery slope that we have to police what violence is taking it too far. It is true the National Lacrosse League has done a good job of getting rid of the head hunting and other dangerous play, but professional lacrosse has lost a bit of its flair in the bad blood department. 
An easy place to start would be fisticuffs and brawling. The 2000s were the golden era of some heavyweight battles inside the showdowns where we saw teams continually employ their answer to a Tim O'Brien or Geoff Snider with a Tim Burke type or a Darrel McIntyre. 
We discovered Eastern teams really didn't like each other and massive battles were all across the Eastern seaboard by the late stages of the decade with Rory Smith, Paul Dawson, Snider and Brandon Francis laying down the law for their respective teams. The epic Smith-Snider battles were the height of heavyweight differences. Both have mellowed in their older ages with no one filling the shoes in recent years with the exception of Andrew Suitor and Steve Priolo, who are needed on the floor. 
There is more to this story than just fighting. There are those types of players that just get the bad blood boiling over and send a whole organization -- fans included -- into lynch mode. 
Ah, you remember what I'm talking about now right? Team focus is lost the second Scott  Evans embellishes a hit and then collides with your goalie, starting a yard sale of antics and pugilism. Evans was one of many in his day that could have been labeled public enemy No. 1. 
How about Mitch Belisle's blindside hit on Jarrett Park and a few other blowout demolitions Mitch distributed in his younger days? There was no shortage of guys in the circuit with Belisle at the top of their hit list a few years back. Others wisely kept their heads up when Belisle was in the house. I saw Brodie Merrill and Snider go out of their way to greet Belisle on different occasions with no luck for a dance. Lots of guys have gone looking to punch Mitch's ticket with no resolution and in this era it would be costly. 
Snider holds the record for most years of service and causing grief to others wherever he has played. The NLL is a much tamer version of itself than the decade prior. An aging Snider still manages to get under the skin of many opponents to this day and in turn is always a target of their affection. I'm sure most scouting reports have a laundry list of things to do and say to get Snider off his game. If all else fails, dropping the mitts may still be an activity Snider might enjoy and delay his faceoff skills for a 5-minute span. 
So I was wondering if the maligned modern day NLL was still like the old days in another department when we had vendettas against players on other teams. Low crosschecks and hand or wrist slashes are always on the "to-do" list but are teams still looking to even the score on guys like in the past? 
It was part of the pre-game schematics of my era in Minnesota to pay extra attention to a guy from another team who had past offenses against Swarm members. 
As GM of the Swarm I certainly had built up a healthy disdain for many players around the league who had done wrong to Minny players over the years. Oftentimes, we set out to engage marked players into situations where we were more than happy to take penalty minutes to send a message. 
One particular night in Minnesota Colorado's Jim "The Axe" Moss had been extra active in slashing up some of our top forwards. On the Swarm bench, the mission was planned that on the next shift a couple of our defenders would take a shift on offense and Moss was not to make it back to his bench on time. 
Reliable Mike Kilby and Ryan Cousins were sent out as forwards to get close to the Mammoth defender and I don't remember who got the dance with Moss but I do remember Moss trying to get by them when he was told "pick one of us because you're not getting to your bench" while play continued in the other end. 
During the 2007 season in Philadelphia, Swarm player Chad Culp and Wings player Rob Van Beek got into the rough stuff along the boards, pushing Van Beek to drop his gloves and proceed to start a melee with Culp. 
The referees were close by and in the process botched the skirmish breakup, Culp with his gloves still on and arms at his side. Chad's helmet had been removed by Van Beek and his jersey pulled over his head. What occurred next was a repeat of a 3 Stooge's episode with referees muffing the breakup and Culp getting punched in the face a couple of times with the lights out and a ref holding him defenceless. 
Next year's visit to Philadelphia had us looking to see if we could return the gesture to Rob and sure enough, Sean Pollock was able to get Van Beek into a scrap and get restitution for Culp through the Swarm judicial system. 
After the game heated words were exchanged between Pollock and Snider in the tunnels of the Comcast Arena before team owners and managers intervened. One thing for certain, every Swarm vs. Wings game for the next few years had some extra juice and that is the beauty of dark side of sports. 
There were other cases, too. Some guys became a target because they were valuable and we wanted to get them off their games or off the floor. 
Vancouver's Curtis Hodgson was one of those guys. Curtis is not a fighter but will get stuck in for a teammate and we had noticed those occurrences. In the scouting report it was simple, anything goes down and he sticks his chest in there, grab him and get him off the floor for 5 minutes if you have a chance. In this era it's a risky proposition to take the chance at starting a fire and possibly shortening your bench. 
The speed of the pro game has been improved and shorter rosters have pushed teams to utilize all the talent they can. I'm not proposing I have the answer to this issue and losing the pace and skill we have established in recent years would be one big step backwards. 
I just wish we had more heated matches these days. As a fan of the NLL, I miss some of that bad blood. 
---