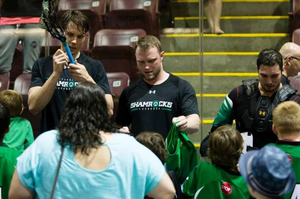 Hey Lacrosse Guys, Remember Where You Came From
Recently, I've been forced to pay attention to the fact that Canada's Blue Jays are the real deal and in competition for the East title of Major League Baseball's American League East division. 
Imagine the coverage the Blue Jays will get if they repeat history and win a championship. Like back in the day with Joe Carter in 1992, baseball would be thrust on to the Canadian scene to again to compete with hockey, soccer and lacrosse for our sports following attention and dollars. 
No doubt we all care for more than just one sport, it's just us laxers tend to wear our love for our game on our sleeve. 
I stopped watching all pro sports about 1994 or so when lacrosse began occupying my whole 12-month cycle of life. I quit hockey and stopped golfing because my interest dropped when I became a year round lacrosse player. 
I often tell my kids there was a time when I was a complete sports nut at their ages after lamenting the time they spend on their devices instead of playing outside like the youth of their dear old dad. 
Tales have been spun of playing any sport we could after school until it was dark or dinner time. My sons have never played a game of road hockey outside of elementary school and just don't have the curiosity or desire for sport that I did at their ages. 
In the 70s and 80s, I could pretty much ring off the names of most NHL, NFL and MLB players. Ask me who was on the 1986 Boston Red Sox or 1985 New York Rangers and I might be able to list the whole teams today. I was a big Steelers fan in my early youth but ended up loving the NY Jets in the 80s with ala Richard Todd plus the Sack Exchange. 
My childhood was filled with road hockey but seasons dictated a shift to baseball in the spring and summer holidays transitioning to football by late August. Lacrosse had a short season unless the Rocks went deep into the WLA playoffs, where the backyard took on lacrosse for a few weeks each summer. There were no such things as lacrosse camps in those days, just hockey school in late August. No matter what summer pick up sport being played, we did our best imitations of our heroes of the day. 
That was what youth sports was all about for me, the connection to your idols and the teams the represented. In the 70s, your favourite players stayed with one team their whole career as a rule. 
That all started to change with baseball in the late 70s. Fred Lynn left the Red Sox, hence I lost my favourite player of that Bosox era and as a 12-year-old I didn't understand why? 
Why would Lynn would want to leave to California and the Angels, he wasn't traded! 
Free agency is now a household word and an accepted part of sports. Organizations employ salary cap specialists and a pro sport has grown into a world of balancing budgets along with rosters. I checked out as a fan of pro sport a long time ago never to return. It is far too hard for me to enjoy what it is versus what it was when I loved everything sports. 
Lately I've been recovering from working through a season of Junior A duties and a deep playoff. We have the Mann Cup coming to Victoria in a few days and I've caught a couple of pay-per-view Minto Cup games that were decent games representative of our best Junior lacrosse. 
I can relate to these stories but I won't be taking in the start of the NFL next week or a Blue Jays game. I don't care for my kids to pay attention to the hype and bizarre lifestyles and attitudes of a great percentage of pro athletes that differer completely from my younger days. Our TV isn`t dialled into sports ever. 
I feel most of these athletes are out of touch with themselves and reality today. This is fuelled by the ridiculous amounts of money they command to do what they say they love to do. Some of the bad eggs tend to be obvious, with actions, in their lack of respect for their sports and the opportunities they are provided because of sport. That isn`t a message my kids need to think is cool.
Am I generalizing that this is all pro athletes? God no. There are lots of solid guys and feel good stories out there in the world of sport. Just seems the bad press outweighs the good and that is what sells news. As a parent I'm kinda glad my kids are oblivious to these sports details.
Let's hope our local youth in Six Nations, Kitchener and Peterborough, Victoria and New Westminster or Coquitlam and all other Canadian Junior A and Senior A centres are looking up to their community lacrosse stars more than ever these days and hoping to play for the local side when they become of age. 
Top end lacrosse players are accessible in their communities and authentic which is something we can all remain proud of. It is important for them to do some work in their associations at Minor levels to maintain the numbers we need playing minor lacrosse and hopefully grow past that. 
The Mann Cup will be played right here in Victoria this year and promises to be two things. It should be a hard fought tight series that is truly up for grabs and anyone's cup this year. 
It will also promote the game here on the island and make for some great childhood memories for a collection of Victoria's impressionable kids. In my book, that's a concrete win-win situation and a perfect sports environment for all to be exposed to. 
---