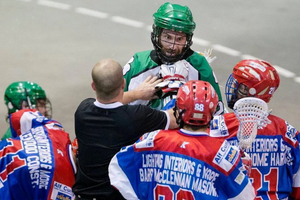 Hacking and Whacking at Mann Cup Limits Appeal of Lacrosse
I'm not too sure what will remain as the lasting memory of the 2015 Mann Cup but Game No. 2 was a black eye for the sport and robbed the fans and teams of a chance to play and display lacrosse at its highest level. 
Some will argue that this game represented tough lacrosse and I'm afraid I may offend those who think this is what transpired. This game is everything that is wrong with Canadian Lacrosse and one of the reasons why we can't get more attention while other sports like ball hockey, soccer and soon baseball are thriving. For every fan that comes to watch lacrosse for the pugilism there are countless more who have walked away. 
I'm a fan of the sport and I care more about the representation of the game than outcomes. I'm a fan of thinking man's lacrosse and the skills of a Rhys Duch or Curtis Dickson. I can appreciate the grind of every shift from a wily soldier like Chad Culp or Greg Harnett. I do enjoy the battles of the physical nature like Rory Smith against players like Adam Jones, who have to endure it and rise above. 
I asked my 75 year old mother if she would like to come to a Mann Cup game about a week ago. She has always enjoyed a good Shamrocks game but doesn't get out to Colwood much since the Rocks left downtown Victoria. Saturday night was to be a date to watch lacrosse. 
What transpired on the floor was not the battle of skills we expected to see. What I witnessed was a battle of wills, a battle of attacks and a battle of composure. 
From the onset of Game 1, it has been obvious that Victoria is set on intimidating Peterborough with any means necessary to gain an edge to erase the pain inflicted from Six Nations the last two Mann Cups. Each team has played rough and tumble lacrosse thus far with Victoria, taking extra liberties in hopes to gain the upper hand. Peterborough has absorbed abuse while deciding how to best stand up for itself if the referees continued to stretch the limits of the rule book. At some point your will to win takes a backseat to your will to survive and composure is out the door. 
With Peterborough in complete control of Game 2 late in the 3rd period, it was clear that Victoria was upping the ante and looking to break fingers with the wood sticks and send an early message for Game 3. In this situation you had to expect something was going to boil over and it did. Shawn Evans is one of the game's most skilled players and used his skill of accuracy to blast a ball right off Smith's head. Smith then lost his cool and attacked Evans and his cousin Turner Evans, looking for retribution. While some may find this type of action exciting, it is not something that is going to sell lacrosse to the masses or get parents stoked on signing their kids up to play. 
My definition of tough lacrosse isn't this. I fear both teams will lose players to injury before long. Not once have two guys dropped the mitts and had a scrap likely because they risk being thrown from the game. Instead I've seen at least 30 slashes across legs and shins from both teams, some with wood sticks, all with intent to injure. I played in a similar Mann Cup series in 1995 and understand no one wants to lose the upper hand and will do everything in their power to win. 
Late in Saturday's game, I watched Smith come down on the knee of Adam Jones with his wooden stick and I held my breath that one of the game's most amazing talents wasn't seriously hurt when Jones crumpled to the floor and limped off. I also think that this was the point when the brain trust on the Lakers bench decided they would have to address Victoria and Smith since the referees hadn't. It's the nature of the beast. 
To the credit of the Lakers, they haven't employed one wooden stick and they are not hacking and slashing on defense with the intensity of the Shamrocks yet. Lacrosse is an eye for an eye proposition and I'm sure the Lakers and Evans sought a measure of equalization to deal directly with Smith. I expect much of the same going forward. 
The refs are supposed to uphold the law just like police do on the street. Early in Game 1 it was obvious they would let the boys play physical but there were numerous calls in an attempt to stifle the intimidation tactics. I honestly thought they were on the right track. 
Both games have had several infractions that have met a blind eye and in fairness to the officials, they know that they can't call penalty after penalty so they are managing the scoreboard of slashes and other over zealous strikes as best as they can. This is outside their job description. What we have is a sport that needs to change some rules. 
Skill should be celebrated at every moment and intimidation should not be looked at as a way to win anything but instead a risk to lose it all. Empowering referees to stand behind more black and white calls is a must. A "no slashing off ball" policy would make a huge difference in this Mann Cup and in the sport. It would stop intimidation and help keep tempers in check. It would open up packed in defenses while inviting off ball cuts and more offensive flow and skill to the game. One simple rule change. 
Look what the NHL accomplished when it took out hooking to increase the speed of the game. Anyone can hook but not everyone can skate well. Right now my MVP is Steve Priolo because he is far and away the most intimidating presence over two games. 
I realize that I was someone who went over the line and used intimidation myself as a player to gain every advantage I could. I am a hypocrite and from another era gone by that grew up with this mentality. I've also been around the game long enough to know that lacrosse as a sport in Canada is not thriving and the mentality has to change just like what hockey has done in the last 15 years. 
It's great that the Mann Cup can be celebrated in communities like Peterborough and Victoria with the fan support we want to believe the sport deserves. It's the other towns and cities in mass that continue to ignore lacrosse as spectators that reveal what none of us want to acknowledge. 
Box lacrosse needs widespread respect from better rules for spectators to understand, referees to control and players to focus on skills. I promise all of you we will have less future registration from parents who believe it is a brutal sport if nothing changes. Mounting indifference will lead test pilots to give up playing or watching because they just can't understand the rules of the game. This has actually been happening for years. 
If we had more retention in minor lacrosse the numbers would be growing but instead registration ebbs and flows. Recently enrolment has slipped in most of Canada's bigger youth lacrosse associations like Whitby. I know I'm starting to sound like the guy who cried wolf but what I write is really about a vision to preserve and grow this sport to one day be much more relevant than it is. 
Walking away from the Q Center Saturday night my mother announced that she had seen her last Shamrocks game after having watched at least 150 since we moved to Victoria in the late 60s. Frustrated with the responsibility placed on her to know which penalties were not going to be called penalties while being forced to watch players play "dirty" in a game where the laws of the jungle ruled she was not entertained. 
No big deal, she's just an old gal. I appreciated the finer details of Saturdays match and I know the game so well that I understand what I'm watching and the game plan both teams are trying to accomplish. Ultimately in the end I was faced with the unsettling realization that lacrosse just lost one more fan. 
---