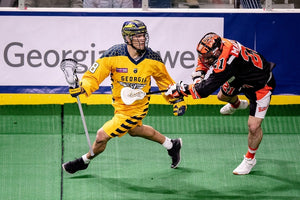 East Division Teams Benefitting From Infusion of Youth
[Photo: NLL] In his second NLL season, Zed Williams is finding his footing as a solid contributor for the Georgia Swarm. 
Out East, the race for the National Lacrosse League playoffs looks slim for Rochester and Philadelphia but many inter-divisional games will provide the back drop for an exciting finish. Again, we celebrate the long overdue infusion of youth this season in the NLL with a look at the newish players and the teams that employ them.
BUFFALO
Buffalo is cashing in on taking its lumps the last few season with a bunch of young first-year players. The team also has a noticeably high energy level that has them pushing the play every time I tune in. I like their chances to win the East because they have obvious depth in every position for a deep run. At the halfway mark, they are my favorite to come out of the East.
Thomas Hoggarth – Thomas has made a marvelous impact for the Bandits in the first half of the season, playing the right-handed power forward position. While Hoggarth's scoring may be a bit of a surprise, his banging and crashing has always been a hallmark. Hoggarth was drafted and released by Georgia and traded by Vancouver. Those were big mistakes in hindsight in what has become a windfall for the Bandits.
Ian MacKay – Equally as impressive to Hoggarth is Ian MacKay's ability to get it done up front on Buffalo's left side. MacKay is also sliding back to play a regular shift of "D" and has the Bandits primed to start running a full offense from the defensive set. I assume MacKay will settle for the back end in the future but right now it's fun to watch him cover all that real estate.
Matt Gilray – Rookie Gilray has fit in nicely with the Bandits defense. Yet another defender who can stay up on the rush, Matt has also been noticeable in the physicality department. The Bandits executed a special draft in 2018 and again in 2019 which Gilray should be proud to be part of. This is a team that will be potent for a long time to come. Look for Gilray to start playing more special teams and being more involved in transition.
TORONTO 
If there's one way to explain the success of the Toronto Rock to date in 2019 it is uniformity and consistency. This team runs its systems as tight as I've ever seen and they're patient while waiting for their opportunities to strike. The penalty minutes are way down and the lacrosse IQ is way up. The Rock have to be happy after losing their old captain Brodie Merrill and still having the first half they have constructed for themselves.
Daniel Craig – Second-year player Craig has been super impressive in Toronto's offensive scheme. Craig has supplied big goals at the right time and his play has been quite heady for a second year guy. These are the kind of players that let the Rock overcome their past spending habits on trades. Craig is becoming a solid pro after being a later round pick and a guy who only got a taste last year.
Brandon Slade – Slade is making the most of his chance to date as he has not missed any of the first nine games of the Rock schedule. Slade brings transition skill out the back door and has found a way to anchor into the defense. Brandon is yet another on this list of players who have persevered to make their NLL dream a reality. Looks like he is here to stay.
Jay Thorimbert – Thorimbert has had a long NLL career as a superior draw man. Jay has been putting up numbers for a decade. After leaving Buffalo and signing as a free agent in New England last year, Thorimbert found himself out of a job at training camp. Jay has come to Toronto to take over the load in the circle and is doing is well in his new setting. This has freed up Brad Kri to spend more energy banging opponents and is a win-win for the Rock.
GEORGIA 
The Georgia Swarm have had an unspectacular year so far and that should worry the rest of East Division. Georgia has been inconsistent while looking ragged in a couple of losses. The good news is they have looked as strong as ever on defense which bodes well for when the offense find their consistency game. The calling card to be an NLL player is to have superior size, speed or skill. This lineup is chock-full of all of it and it's a matter of time before they go on a run.
Zed Williams - Williams is putting up points and getting more confident as a full-time box player. Most impressive is Zed's footwork and his ability to possess the ball in traffic where he is giving the opposition all they can handle. Williams' upside is incredible and I feel like he will mature tenfold down the stretch and in the post season.
Holden Cattoni - Cattoni landed down south after a draft day trade and has become the top scorer on the Swarm's left side. Holden has benefited from becoming a full-time shooter and power play guy. While the Swarm offense has a different makeup than seasons past, Cattoni has them looking like a championship caliber unit once again.
Connor Sellars - Sellars has been a stable force on the Georgia back end since his draft year. This has been a breakout year as Sellars finds himself taking draws with success while getting up the floor and scoring the odd goal. Connor's strength is his defensive 5-on-5 play while helping out on special teams. It's hard to get noticed with this team's depth of talent but Sellars is making himself visable above the rest of the group so far in 2019.
NEW ENGLAND 
One thing that can't be said about the New England Black Wolves is that they don't work hard. In what should be a down year after losing go-to guy Kevin Crowley and veteran goalie Aaron Bold, the organization is excelling. That is a credit to the coaching staff and the veteran leadership that is carrying younger players while battling it out in the ultra competitive East division.
Tyler Digby – I've always been a huge Digby fan because he is huge. Having a guy this size on your offense is a nightmare for other teams, especially when he's working with someone like Callum Crawford whose footwork is second to none. Digby is finishing his chances this year and is benefiting from a regular role and some open looks. It remains to be seen if he can bring his game to the next level and be a top scorer in the NLL.
Reilly O'Connor – A year ago lacrosse talking heads might've taken a look at New England's left side and said the team was in for a long season. O'Connor showed up without much past success and grew into the first-round selection he entered the league as. Reilly has combined with Stephan Leblanc and Dereck Downs to give the Wolves a balanced offense which is needed to compete at this level.
Dereck Downs - Downs been a surprise after being drafted in the fifth round and making the team. On draft day, he didn't compute as a top forward prospect but to date he is putting up goal amounts worthy of a mention in the ROTY discussion. Downs has warmed up in the month of February and if he can continue at this pace he will be putting any doubts about his ability to bed.
ROCHESTER
So far it has been a lean year for the Knighthawks. The post-Matt Vinc era has proved to be a struggle as a team carves out a new identity. The talent is here and top players like Cody Jamieson are pulling their weight but Toronto and Buffalo have upped the ante and Rochester needs to find another gear to launch itself into the playoffs in April.
Angus Goodleaf – Angus is no rookie but he is a newcomer to multiple starts. Waiting his turn behind all-world goalie Matt Vinc has certainly taught Goodleaf about patience. Rochester has stumbled in the first half but Angus has given them solid minutes and is certainly not the issue. It may take a year for Angus to get comfortable playing game in and game out but his pedigree has been high end since his Junior days.
James Barclay – Rochester is blending some new defensive energy into the lineup in 2019. Taking James in the first round of the 2019 draft and playing him in almost every game this year makes him part of a Rochester group of youngsters seeing valuable playing time thus far. I see a long future ahead in the NLL with the K-Hawks.
Mike Burke - Burke's had a few stops in the NLL and has proven he can put the ball in the net. What he must prove at this point is that he can score consistently but that only comes with knowing you belong. If Rochester can play him for the rest of the season, it may find out Burke has what it takes. The addition of Stephen Keogh may see Burke's time cut short once again.
PHILADELPHIA
At the halfway point, you have to feel for the Philadelphia wings. This team has played exciting lacrosse, providing a few nail biters thus far. There is a lot to like about their effort and development of youthful players. The Wings could rally in the second half and claw their way into a playoff spot or more than likely end up playing the spoiler.
Steph Charbonneau - Charbonneau has been a spark plug for the Wings' transition game. Steph is currently ranking quite high in NLL transition scoring; not bad for a rookie. Philadelphia plays an exciting brand of lacrosse that is transition heavy with Charbonneau leading the pack. Charbonneau is logging minutes and growing his game weekly.
Blaze Riorden – This left-hander is obviously good at learning new tricks coming from his field lacrosse background. That's great news for the Wings organization as it points to Riorden's future only getting better. I'm very impressed at his soft hands and his ability to catch and shoot in traffic which making him greasy in the low position which is an art form.
Matt Rambo - Rambo has all the earmarks to be carved out of the Jake Bergey mold. As a USA player navigating the NLL in his first go round, Rambo is starting to build his own niche. As it goes with many U.S. players, Rambo is highly athletic, sporting a great build for the box game. Trading Cloutier is a big indicator of the amount of leash Rambo will be getting in the second half in his hometown.
---